Find The Right Assisted Living Facilities or
Nursing Homes In Suffolk County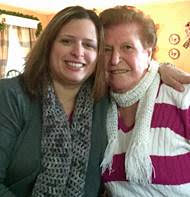 My name is Kristen Rossi, and I'm Carol's Senior Living Advisor in Suffolk County, Long Island,  NY. The picture is of my Grandma Enrica and me.
My start with Ask-Carol! is somewhat different from most. Besides having a deep connection to my grandmother and her care, I have been in the medical practice management industry for years. These two avenues allow me to understand the emotional and monetary value of getting good care and help for you aging loved ones.
I see firsthand how Grandma does not want to lose her independence but is in need of extra help getting around. Grandma is a strong-willed Italian immigrant who to this day still makes her own homemade pasta. She is insistent on remaining in her home yet I can see that life would greatly benefit if she entered Assisted Living. I'll be working on that.
I also have the wonderful benefit of having a mother who is a hospice nurse. She provides the best possible end of life care for not only her patients but their families. What I have learned from her is that many of these families and patients know very little about what is going on in their own lives. They are going through a very emotional time and need the guidance of someone else to help make decisions about care. This process starts way before hospice and I hope to help the before hospice care in order to extend the lives of these patients.
The other side stems from my background a medical office practice manager. A great amount of the patient population is elderly, many of whom have family caregivers who are often confused about insurance coverage and out-of-pocket costs. The caregivers are not at fault. They are often left with the immense task of taking care of the aging parents while also maintaining their own full time jobs and families. They have very little energy to give to the cause and this in turn inadvertently hurts the patient.
We all want to do what's best for our parents, aunts, uncles and grandparents, but we often find it hard to get the right help. This is when you need to turn to a Senior Living Advisor. This very thought made me look into various companies where I can assist in making it less of a struggle not only to for my family but others around me. My search ended with Ask-Carol! When I saw how well Carol was helping seniors and their families it helped push me to join her. Together we can help show you the best fit for your aging relative so that you can both get back to living full lives in assisted living facilities Suffolk.
I will help you with tasks such as…
Guide you through an often complex process.
Ask questions you might overlook.
Find financing options for your budget.
Suggest the communities best for your parent
Offer personal support during a difficult time.
Call me at 1-631-721-0404 or fill out my contact form days, evenings, or weekends. I promise I will help you through this difficult time. My help is free.